<![if !vml]>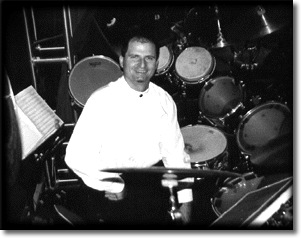 <![endif]>Anthony Cerabino was first recognized for his talents by performing in the New York State All-State Jazz Ensemble in 1979 and further recognition by performing in the world renowned One O'clock Jazz Band at North Texas State University 1983. Upon graduation, Anthony became an adjunct faculty member for three years at North Texas State University.
He also instructed and created a percussion class on Afro-Cuban, Afro-Brazilian rhythms and several Latin American rhythms. The information from this class were transcriptions of private and class lessons of the great Frankie Malabe, Bob Weiner and Manuel Montiero.
In addition, Anthony wrote "Drumset Essentials" which was a required text by the University of North Texas and several other colleges across the country.
While living in the Dallas metro area, Anthony has performed and or toured with many of the great local artists and bands which include: The Dallas Brass ( brass quintet), The Dallas Jazz Orchestra , Shelly Carroll, Carlos Guedes (Jazz Harpist), Dave Alexander, Vicho Vinchencio, John Adams, Joe Vincelli, Drew Phelps and the Pete Peterson Big Band. Anthony was an active studio musician at the Dallas Sound Lab. Local show work included such household names such as Ben Vereen, Bo Diddley, Lesley Gore, Brenda Byers, Bob Hope, Roger Williams, and Freda Payne.
In an attempt to broaden his musical palette, Anthony moved to New York City where he was recommended to play with the trumpet legend Maynard Ferguson. "Touring with Maynard was a long time goal accomplished with the right recommendations and skill required to cut the gig".
Remaining in New York for eight years Anthony worked and toured with several original projects including the Mike Frost Band, and recorded several CD's under lesser known acts.
"Becoming a multi-stylist in music has kept me working all these years."
Anthony received a call from the nostalgic Glenn Miller Band to tour the US. In addition, the Larry Elgart and the Bob Wilbur/Benny Goodman Tribute Band also rendered Anthony's big band drumming skills.
Performing and living in China for two months with the Orlando Jazz Ensemble has given Anthony some valuable cultural experience.
Anthony has toured with Barnum's Kaleidoscape which is Ringling Brothers version of a modern Cirque. "It is performance art at it's best with a Live Orchestra."
Anthony is currently performing in the New York Metro Area. Some of his regular performing bands include, www.that70sbandlive.com, www.georgecintron.com, www.almillerbigband.com, The Bob Dransite Quartet, www.nachomamalive.com with Steve Interrante, local great keyboardist of (Stu Hamm, Cyndi Lauper) Jim Yaeger, www.jimmyyaeger.com, saxophonist/composer, Mario Cruz, www.mariocruzmusic.net and Laurence Elder, www.Laurenceelder.com.
Anthony also became interested in Oriental Medicine and received a Massage Therapy Diploma and a Masters of Science degree in Acupuncture from The New York College of Health Professionals in Syosset, NY. Please check out his healthcare practitioner site at www.healthcarewellness.org link.
Anthony is as passionate about his hobbies as his career. Anthony has been very active mountaineering for the past twenty years all over the US and Canada. Anthony enjoys photography and staying fit by practicing yoga, running and meditation regularly.